COLUMBUS, MS – Courtesy of the Dispatch and Grant Mclaughlin
CAFB is working on a plan to update their flight training squadron by phasing out the 1970s-era T-38C Talon Flight jets and replacing them with a number of the more modern Boeing T-7A Red Hawk jets. If approved, the changeover will begin in 2028 and should be done by the end of 2030. Air Force Project Manager for the T-7A Basing Team, Christopher Garcia said, "One of the biggest issues with our T-38C Fleet is they are just aging out. The maintenance needs are the biggest driving factor in needing the replacement. Also, as technology has increased, we need newer aircraft to fly with the new fourth and fifth-generation fighters. This T-7A should bridge the gap." The plan also includes some renovations to the base itself, such as new hangar bays and storage.
As the new planes will allow for the use of night-vision equipment while in flight, they plan to use them for night-time training flights in addition to the usual flights they already have. As this may have an impact on the noise level for nearby residents, they are currently soliciting feedback from people who live nearby via public meetings such as the one held just this past week. The public feedback period will run through November 20th; residents can also express their concerns via their website at https://www.columbus.af.mil/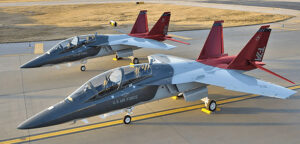 "Our wing's mission is to train world-class pilots," 14th Flying Training Wing Commander Col. Justin Grieve said. "Throughout our base's history, we have helped shape the future of pilot training. The T-7A program is a key component for continuing excellence in pilot training while preparing our future pilots to fly the growing fleet of fifth-generation aircraft. Support from our community has always been amazing and is vital to the success of the pilot training transformation. The T-7A program will enhance the base and community's role in supporting our national defense."
One concern that has been relevant to locals has been the possibility of the closure of the base – something that has come up in the past as the military seeks to lower expenses; CAFB has been on the chopping block at least once in the past few decades, but has survived thanks, in part, to an MDA grant in 2012 for base improvements. The fact that the base has been renovating and expanding its operations, rather than the opposite, seems to bode well for its future.
Please click here for the original article: https://cdispatch.com/news/new-jets-to-replace-t-38cs-at-cafb-by-2028/
Some info has also come from a related Dispatch OP-ED piece: https://cdispatch.com/opinions/our-view-exciting-changes-coming-for-cafb/