GOLDEN TRIANGLE AREA, MS – Courtesy of the Dispatch
Sales tax revenues are up by about 10% year-over-year for Columbus and Starkville; West Point has seen an increase of nearly 7% over the same time period. People are out there shopping and contributing to their local economies in the process.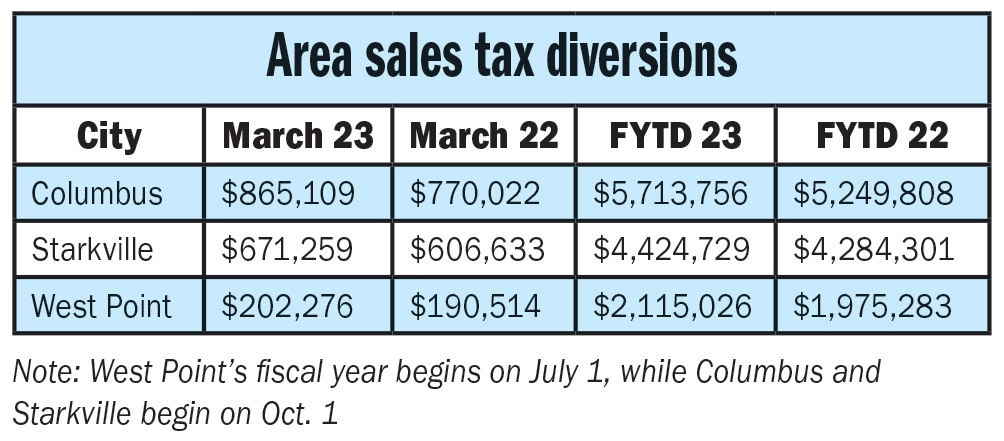 "Fiscally, we are in a much better position than we were this time last year," Columbus Mayor Keith Gaskin said. "I attribute that to new businesses, retail and restaurants that have opened in the area. I think a lot of people who drive in from around the Golden Triangle and outside enjoy what we have here in Columbus. I think we're on the right path and will continue to see these numbers increase as we work very hard to bring more business and retail into the area."
Mayor Lynn Spruill of Starkville said, "I think part of it is that people are still coming into town for our new shopping area that opened near the end of last year (Triangle Crossing). . . So I think that as well as the fact that we are just, we're growing in popularity as a place to do business and to come in and eat and enjoy the different fare that we have."
Triangle Crossing Shopping Center opened at 601 Hwy 12 W. in November. It features stores such as ALDI, Ulta Beauty, and Marhshalls.
Please click here for the original article: https://cdispatch.com/news/2023-03-20/columbus-starkville-see-sales-tax-revenue-jump-10-percent/