GTR REGION, MS – Courtesy of the Dispatch and Grant McLaughlin
COLUMBUS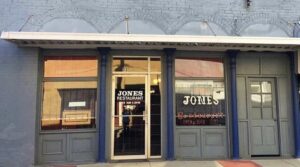 A perennial favorite Columbus eatery, Jones Restaurant, located at 112 Fourth St. S. (aka Catfish Alley), is preparing to re-open in the future! If all goes well, renovations will soon commence, and they plan to bring it back with their classic menu of tasty, tasty food. Owner Laura Jones Chalmers said that she is currently working on obtaining funding for the project. The restaurant had originally shut down in 2019, but she has been wanting to re-open for some time now. There will also be apartments available above the venue.
Angie Craddieth recently held a Grand Opening for the permanent home of her Heart 2 Heart Comfort Homecare business, at 2240 Military Road. "I have also been getting referrals from different people for their family members or friends for service," she said. "It's been going pretty good."
STARKVILLE
Hibbett Sports, 874 Hwy. 12 W., will be hosting a "Clips and Kicks" back-to-school event on Sunday, in partnership with Adidas. They will be giving away free school supplies and haircuts, from noon to 5 p.m.: "Our Clips and Kicks back-to-school events have become a great tradition that families look forward to each year, as they get ready for back to school," District Manager Cordaro Gaines said in a press release. "We really appreciate our generous partners at Adidas for helping us bring this year's event together for Starkville."
Finally, Big Dawgs Station 26 closed up shop earlier this month, as they have decided to shift to a food truck format instead of a permanent store.
Please click here for the original article: https://cdispatch.com/news/2023-07-20/goings-on-with-grant-jones-restaurant-making-a-comeback-in-columbus/Adidas