MSMS Ranked as One of the Best Public High Schools in the Nation
Columbus, MS (niche.com)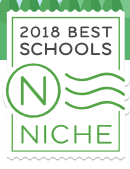 Niche.com recently published their annual rankings for the top public high schools in the country, using data gather primarily by the US Department of Education. Among the standouts was Columbus' own Mississippi School for Mathematics and Science (MSMS), which earned a top-ten finish, coming in as the 8th best in the nation, beating out over 900 other public, charter, and magnet schools it was competing against. The hard work of the faculty, staff, and students all contributed towards this victory, and they should all be commended for it.
Among the criteria used were: Academic record of the students (based mainly on SAT/ACT/state assessment scores; this represents 60% of the total score); followed by teacher pay and ratings, cultural diversity, parental and student ratings of the teachers and the school, which all contributed to the score; as well as other criteria such as availability of clubs and other extracurricular activities, health & safety, sports, and the facilities themselves.
You can see the full ratings and reviews for all of the schools – not just MSMS – as well as a detailed breakdown of how the data was used and the scores were calculated by clicking here.