Walmart Neighborhood Market to Open Soon in Starkville
STARKVILLE, MS – Courtesy of the Starkville Daily News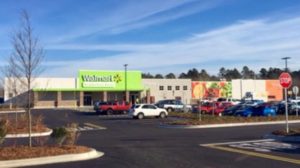 Starkville's new Walmart Neighborhood Market, which is a greatly scaled-down store intended to function more like a traditional grocery, is expected to open for business on Wednesday, January 17th. They are located off of Hwy 12 at 105 Market Street. The store is about 41 thousand square feet, or roughly a quarter of the size of a typical Wal-Mart store.
Walmart Director of Communication Anne Hatfield said that the new store will include a full produce department, bakery, deli, pharmacy, gas station, and a health and beauty department: "The focus is groceries," Hatfield said. "It is a classic grocery store geared toward convenience. . . "If you need to run in and grab a gallon of milk or something to cook for dinner, this store is perfect for that," she said. "If you need to make a full grocery shopping run, this store will offer everything you need for that too." The store will also offer online ordering and pickup options.
Hatfield said the Walmart Neighborhood Market will create about 95 full-time and part-time jobs, many of which have been filled, with the employees undergoing initial training in the weeks leading up to their grand opening.