GOLDEN TRIANGLE AREA – Courtesy of the Dispatch Pearl's Southern Cooking at 7066 Hwy. 45 N. in West Point has formally opened their doors. They offer up tasty soul food and classic Southern favorites, such as biscuits with sausage gravy, ribs, and catfish platters, and more! Tues~Thurs 11-8, Fri 11-9, Sat 7a-9p.

https://www.facebook.com/Pearls-Southern-Cooking-INC-West-Point-MS-113570723683723/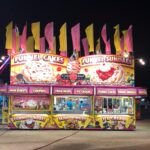 Fair Treats to Geaux, a mobile vendor, is offering up funnel cakes, fried Oreos, and all sorts of other fair fare in Columbus near Gary's Pawn & Gun on Hwy 45 from Noon to 8pm daily through Sunday July 5th.

https://www.facebook.com/FairTreatstoGeaux/

Local water park Slip-N-Dip, 312 Lake Lowndes Road in Columbus, is officially open for the season. As with other businesses, they will be enforcing rules for public safety in these unusual times: 100-patron limit, 6-foot distancing, etc. Mon~Sat 11 a.m.-6 p.m. and Sunday from 1-5 p.m.

https://www.facebook.com/slipndipcarters/

Please check their respective FaceBook pages for updates, menus, directions, and more!

Please click here for the original article:
https://cdispatch.com/news/article.asp?aid=82099