COLUMBUS, MS – Courtesy of the Dispatch
County officials recently toured Steel Dynamics' (SDI) latest state-of-the-art paint line recently. SDI is in the process of constructing a new galvanizing line, which should help them expand their business providing custom-painted steel for automobiles and other similar products.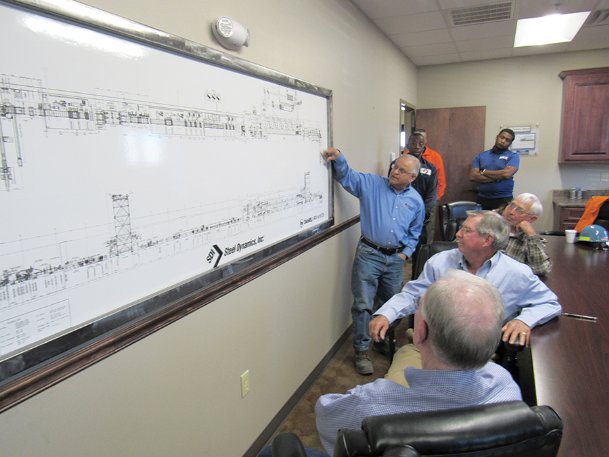 Their existing paint line cost $94 million to build, SDI Columbus general manager Madhu Ranade Ranade said. It has been in service for around two years: "It's the most advanced paint line in North America," Ranade said.
Their paint line, per Ranade, has expanded their product offerings significantly, with more than 1,400 tints available, all made to the customer's most exacting preferences: "I can't tell light blue from dark blue; our customers are very picky," he said. "I was amazed to learn there are 14 shades of white alone."
The visitors then went to see the new galvanizing line, which is expected to be 100% complete and fully-functional by about this time next year, "But everybody knows I expect it to be finished before then," Ranade said.
SDI makes galvanized steel and galvalume as its primary physical products: "Galvalume is a mixture of zinc and aluminum and is more corrosion resistant," Ranade said. "The applications are for things like roofing, siding, garage doors, lighting, appliances. . . "The new galvanizing line will allow us to increase production for automotive," Ranade said. "We would like to have about 20 percent of our product going to the automotive industry."
Ranade went on to say that the paint line added about 40 jobs to the existing 550 that were in place when they bought the plant in 2014, and that they expect to add that about another 40 or so once the new line is ready: "For every steel job we create, we generate seven other local jobs," he said.