STARKVILLE, MS – Courtesy of the Dispatch

Several years ago, MS State grad Hagan Walker could have had a job at Tesla upon graduation, but he chose instead to remain local and start his own business: Glo. Fast forward a few years to 26 years of age, and he's now turned enough profit to buy himself a home: the renovated Buckely Grocery Store location, first built almost a hundred years ago.
"I guess I've always been the oddball in that way," Walker said. "I've always taken a quirky path. When I saw it was for rent, I jumped on it. My landlord was my professor at State. … I think a lot of people wanted it. I'm just glad I got it."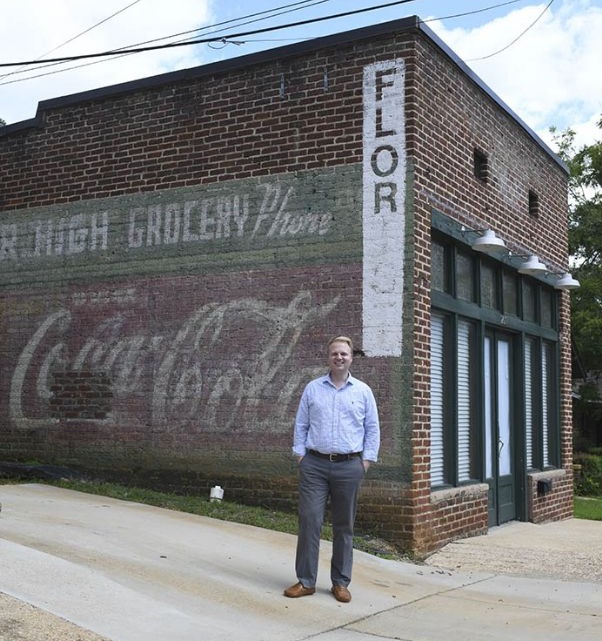 The structure is known for the Coca-Cola mural painted on its side; Walker has been spending much of his spare time researching the history of the place, which he plans to renovate as time goes on: "You never really think about it until you're looking back, how often things change," Walker said. "It's been fun. It's like a puzzle."
One of his finds in the long-unused portions of the house was a 1950s glass bottle Coke machine, which he is fixing up: "This probably hasn't run in 50 years, so that'll be a fun project to get it working," Walker said. "It's period-accurate though. … I plan to put it outside the house [next to the big mural] so people can come by and grab an ice-cold bottle Coke if they want." He also plans to have a local artist revitalize and preserve the mural itself.
The main structure has seen many uses in the past: Buckley's Grocery from 1932 thorugh 1952, then O'Rears Grocery in 1961, a television and radio repair shop in 1981, a TV sales and service store in 1985 and a florist and gift shop in the '90s. It sat vacant for nearly a decade until its prior owner purchased the building in 2007, renovating the store into a residence: "Dr. Bruce was the one who really took the time to restore the place," Hagan said. "I think I'll leave things mainly as-is (inside).
"It's a cool part of Starkville," he added. "I feel like Starkville is a pretty creative community."