COLUMBUS & STARKVILLE, MS – Courtesy of the Dispatch
After almost two years of waiting, Cook Out opened its Columbus location this past Tuesday on 18th Avenue North. By early afternoon, the drive-thru had a line of cars going our to the street, and plenty of diners inside. The service, however, was fast and efficient, as the company has been doing this sort of thing for a long time; their Starkville location opened in 2016.
Their hours are 10:30 a.m.-1 a.m. Sunday through Thursday and 10:30 a.m.-3 a.m. Friday and Saturdays. A regular combo is less than $5.50 and includes a burger or other sandwich, 2 sides, and a large drink; a kid's combo, with a smaller sandwich, 2 sides, and a drink, will run you about five bucks. Special options such as BBQ toppings or cheese sauce with grilled onions will cost an extra 99 cents, and getting one of their 40+ thic, rich flavors of milkshakes (instead of a drink) will cost an extra 2 bucks.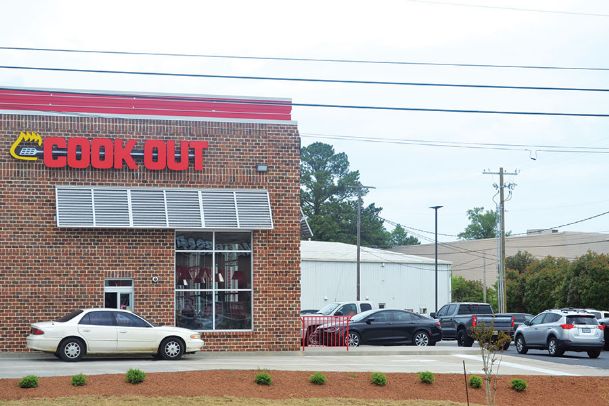 Market Street Festival is this weekend – see our prior post for more info about attractions, street closings, and the like. Saturday night, as the Fest winds down to a close, Huck's Place, 121 Fifth St. S., will host a benefit for Zachary's.
Early Sunday morning, Zachary's had a kitchen fire that caused extensive damage, but they and the community are working together to see them come back better than ever! The benefit at Huck's will be from 7 p.m.-midnight, and the cover is $10.
C Spire has been working hard acquiring permits and setting up towers & wiring to bring high-speed fiber optic broadband internet service to residents of the area; they have just announced that their next service area will be an expansion within Starkville. The new fiber optic services will be along Poor House Road, South Montgomery, Atkinson Drive, and South Ridge Road.  
"Residential Fiber is a game-changer and this revolutionary technology promises to boost home values, broaden entertainment opportunities, help expand the local economy and improve the quality of life for everyone in Oktibbeha County," Ashley Phillips, general manager of C Spire Home Services, said.