Back Yard Burgers is on its Way Back, Baby!
COLUMBUS – Some info courtesy of the Dispatch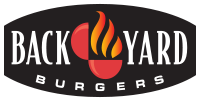 City building official Ken Wiegel reports that Back Yard Burgers is planning to reopen its Columbus store just off of Hwy 45 in front of Wal-Mart. While the location shut down in October of 2016, there is currently no formal re-opening date announced. However, Wiegel says that inspections of the property have been conducted. The company has dozens of locations open in the US, mostly in Tennessee, Mississippi, and the Midwest.
Originally founded in Cleveland, MS in 1987, the Back Yard Burgers chain has seen its ups and downs. A deal with Yum! Brands, owners of Pepsi and Taco Bell, in 2002~2004 ultimately fell through. Since going public, the company has passed through multiple hands, and even entered Bankruptcy reorganization in 2012; however, they emerged from this temporary setback and kept on going, thanks in part to investors who believe in the brand and want to see it thrive.
To this day, the company uses only Black Angus Beef in its burgers, and offeres a wide variety of optional sides (including vegetarian choices) for its more selective customers. Their menu also includes salads, turkey and chicken sandwiches, chili, potato soup, shakes, desserts, and a number of french fry and baked potato dishes.