COLUMBUS – Courtesy of the Dispatch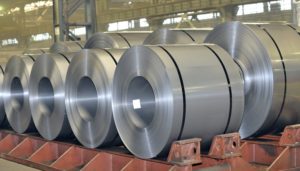 Columbus' Mississippi Steel Processing has announced their majority acquisition by North Jackson, Ohio's Liberty Steel Products Holding. MSP processes rolls of steel to the tune of 750 thousand tons annually; the company also runs and makes handcrafted steel and wooden furniture for their downtown shop, Steel Forest Furniture. Their president, Chip Gerber, made the announcement Wednesday night via press release: "We are excited for the future of MSP and our partnership with Liberty," Gerber said. "The experience and reputation of Liberty in the industry is a welcome addition to our team at MSP."
Susan McKay, the owner of Party and Paper, plans to open her new shop, Impressions by Susan, at 424 Main St by November. The new venue mainly offers event printing, personalized invitations, gift-wrapping, and the like. The store will be open from Tuesdays through Saturdays.
Kate Cryder will be opening an organic spray-tan business for those interested in safer methods of getting tanned in the next few weeks. Gypsy will be located at 109 5th St S, in the location formerly occupied by Fin's Bobby Pin. She will be open from Tuesdays through Saturdays. Appointments can be scheduled online at tangyspy.co, and a personal consultation is included for each client.
Brickerton Day Spa now has new ownership: Amy and Matt Bogue will continue the spa as it is now, but they are looking to expand its services in the future, with medical treatments as the first thing on the list.
STARKVILLE
Starkville Nutrition, which offers healthy shakes and teas, has opened up at 500 Russel St, Ste 18. They had their grand opening in August, and will be open from Mondays through Saturdays.
Thrive Health, which used to be located on Hwy 12, has moved to the same building; their new address is 500 Russel St, Ste 29. They offer Chinese medicine, acupuncture, CBD oil, etc. They accept walk-ins from Mondays through Fridays.