GOLDEN TRIANGLE REGION, MS – Courtesy of the Dispatch

COLUMBUS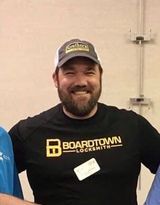 Columbus Lock and Key founder Tom Cole has sold his business to another expert in the field, Bruce Johnson, of Boardtown Locksmith. Cole will now retire after a long career helping out the people of Columbus. "I appreciate Tom and what's he's done over the past 40 years," Johnson said. "I just hope I can continue that strong service he's done in the area."

Collier Hardy, a recent high school graduate, has been in the business of selling goat milk soaps and scrubs sourced from her family's own goats for four years, and she has now decided to expand her business by purchasing Gypsy Tan in downtown Columbus. The boutique is located at 109 Fifth St., and will continue offering customers natural tanning services, oils, lotions, notions and potions. Gypsy Tan is open Tuesday through Thursday 11 a.m. to 8 p.m., and Fridays from 11 a.m. to 5:30 p.m.

Jolly Smiles, a teeth-whitening service, has now opened its permanent home at 400 Main St., Suite D. Mon~Fri 9 to 5, Saturdays 9 to noon, all by appointment only. Check his Facebook page for updates and appointment info.
Pennyridge One Stop, the service station at 2003 Ridge Road, is under new ownership. The items on offer have already been expanded, and owner Tristan Atkinson has big plans for the future: "I am grateful for the opportunity to be able to do what we are doing," Atkinson said. "If there is anything we can get or do for anyone, we will do our best to get it done." Open daily 5:30 AM to 9PM.

How about a cuppa tea? Feel Good Nutrition, 720 N. Lehmberg Road, has opened its doors and is offering loaded teas and the like. Mon~Fri 6 a.m. to 7 p.m. and Saturdays from 8 a.m. to 2 p.m.

STARKVILLE

Ty MMI, a Vietnamese pho bowl and seafood restaurant, will soon be opening its doors in Middleton Court.

Please click here for the original article: https://cdispatch.com/news/2021-07-15/mary-means-business-young-entrepreneur-purchases-gypsy-tan/