GTR AREA, MS – Courtesy of the Dispatch

COLUMBUS, MS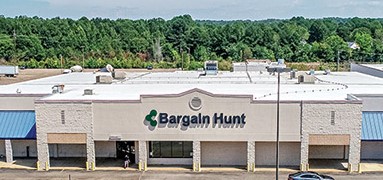 Commercial Real Estate company Crexi has announced that the Bargain Hunt building, 2312 Hwy. 45, will officially go up for auction on November 1st of this year through the 3rd. The opening bid is listed at $400,000, and participants must pay a $10,000 deposit to register for the auction. The plan is for Bargain Hunt itself to remain open, just under new ownership once the time comes: "Columbus Centre is an opportunity zone, making the site eligible for preferential tax treatment," the listing reads. "This offering includes Bargain Hunt (44,000 SF) with 5,600 SF available space. Bargain Hunt is a national credit tenant with six years of remaining term and an option to extend."

Across the street from there just North of Gary's Pawn and Gun, Fast Pace Health, a walk-in urgent care clinic, will open its doors this Saturday. They held a ribbon cutting today; tune into our page tomorrow for photos and details! This will be one of their 150+ locations throughout the South. Mon~Fri 8-8, Sat 8~6, Sun 1~5.

"We have built our name and reputation on our compassionate, reliable and affordable approach to health care with services that can be scarce in smaller communities," said Fast Pace Health CEO Greg Steil in a press release. "Especially during a pandemic, patients need immediate solutions, and our safe and convenient Columbus clinic will offer treatment for a wide range of illnesses with walk-in urgent, primary and preventative health care services. We also offer scheduled services for behavioral health, telehealth, and occupational health care needs."

STARKVILLE, MS

Pumpkin patch "The Farm," located at 5733 Blackjack Road, will have its grand opening at 10 a.m. Oct. 9. Advance tickets are available via their Facebook page. Sat 10~7, Sun 1~5 until Halloween night.

"To see it finally coming to fruition is a great feeling," Addie Mayfield (one of the owners) said. "We still have a lot of growing to do, so it's a little intimidating to open our doors to the public, but Starkville is such an incredibly supportive community and we're excited to bring something new to the area that we can continue to build and grow over time."

Please click here for the original article: https://cdispatch.com/news/2021-09-30/mary-means-business-bargain-hunt-building-up-for-auction-in-november/

Photo credit: Crexi. An online auction is set for Nov 1-3 for the building on Highway 45 in Columbus that houses Bargain Hunt – The store will not close, as there are six years remaining on its lease