GOLDEN TRIANGLE REGION, MS
COLUMBUS
Columbus has a new restaurant: Patio 45 (3255 Hwy 45). They are set up for outdoor dining so diners can soak in the sun in comfort; they are currently working on a Plexiglas roof for the outside seating area so that people can enjoy the fresh outside air, rain or shine. They offer a rotating menu including seafood, burgers, steak, and more! Please see their FaceBook page for details. Wednesday and Thursday 11 a.m.-2:30 p.m. for lunch, 4:30-10 p.m. for dinner, Friday 11 a.m.-2 p.m. for lunch and 4:30 p.m. — 1 a.m., Saturday 11 a.m. — 1 a.m. and Sundays from 11 a.m.-10 p.m.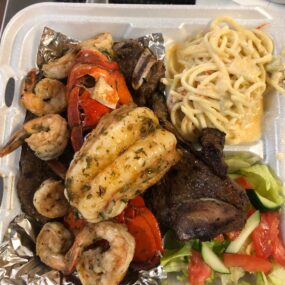 America's Car-Mart has completed their shift to their new digs at 3933 Hwy. 45 N. "We needed a bigger facility to better serve our customers with more quality, used vehicles," their post read. "It's awesome, and we're excited!"
Meanwhile, Action Auto has now taken the spot next to Car-Mart's old location at 2325 Hwy. 45, having moved there from their original spot on Gardner.
STARKVILLE
Dogwood Equine Connection, an outpatient equine therapy center, has now opened its doors at 344 St. Matthews Road. Owner Katie Holtcamp says that she has eight horses and 78 acres currently. "Equine therapy allows individuals to work on any type of wellness goal," Holtcamp said. "Horses are unbiased and accept people for who they are and where they are. Whether someone wants to work on mental, emotional or physical health, horses can accommodate when partnered with a credible instructor."
If you'd like to book a session or simply want to learn more about the benefits of equine therapy, please give Holtcamp a call at 662-312-3473 or check out dogwoodequineconnection.com.
WEST POINT
McAlister's Deli, 5576 Hwy 45 Alt. S., is scheduled to open their doors this coming Monday. The first 100 guests on July 13 that purchases an entree will receive the ever-famous tea for free for an entire year.
Please click here for the original article.