GOLDEN TRIANGLE REGION, MS – Courtesy of the Dispatch
On Thursday, Restaurants in Mississippi were allowed to re-open their dining rooms (at half capacity) for the first time since Gov. Tate Reeves issued a statewide order limiting their service options back on April 3. While this has brought some relief to store owners — 2/3 or more of many venues' proceeds normally come from inside dining — customers have not yet been returning en masse.
STARKVILLE
"I really didn't know what to expect," said Mark Welch, owner of 1883 Steakhouse on Highway 12 in Starkville.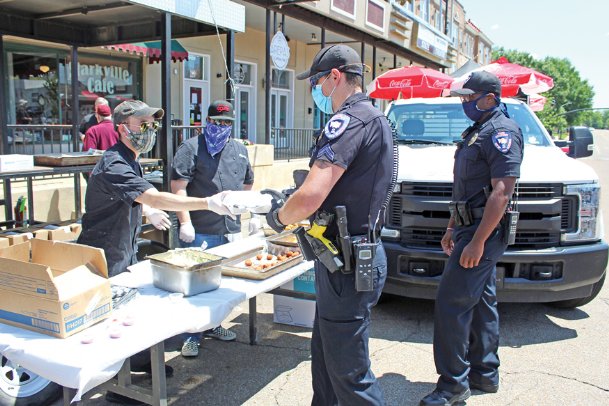 "It's pretty quiet so far," said a restaurant manager just down the road at Newk's Eatery.
A notable exception has been Starkville Cafe on Main Street, which was packed, in part because this was also the day he held a big food giveaway to any first responders who showed up at his restaurant. "It was just a coincidence that it happened on the same day," owner John Peeples said. "But Main Street has been so slow and quiet these past six or seven weeks, we just felt like we should do something. I think everybody needed a little lift." Clark Beverages provides a tent and free sodas. He went on to say that he gave away more food than he sold, but that it was absolutely worth it: "I had a customer tell me, 'You know, this is the first time I've felt normal in weeks,'" Peeples said. "I think that's something everybody needs now."
COLUMBUS
Restauranteurs in Columbus, however, are taking a more cautious approach. Most are waiting until next week, as the waters get tested.
"The safety of our customers and employees has been the basis of our decisions," Zachary's owner Pellum said. "Georgia and Florida opened their dining rooms two weeks ago. I want to see what the numbers look like over the weekend to see if there's a spike in (coronavirus) cases. I'll be looking at the Mississippi cases over the weekend, too. The bottom line is that we won't open until we can be sure our employees and customers are safe."
Steve Pyle, co-owner of Cafe on Main, said that "The governor is going to have another update on his order on Monday, so we decided to wait to see what he has to say then . . . If the cases should spike, he might change the rules again. The one thing we didn't want to do is open up then have to shut down again."
Please click here for the original article: https://cdispatch.com/news/article.asp?aid=81106