COLUMBUS, MS – Courtesy of the Dispatch

At Cafe on Main in Columbus (at the corner of Main and 5th St S), Manager Kelsie Hoover is just one of many who have been adjusting to the way things are now, to the benefit of their customers. They have added limited dinner service via pickup, drive-thru, and delivery, in addition to their existing lunchtime and sweet shop offerings: "We were just getting used to it, being open some nights, having a live band, offering a different atmosphere than lunchtime — and then COVID-19," said Hoover, 22. "We had to change our normal routine and adapt to this new environment."
Their offerings include plate lunches, sweets, frozen casseroles, and more. Give them a call at 662-241-4401 to order (11AM to 4PM Mon~Fri). For the time being, they also have a limited supply of hand sanitizer, protective gloves, antiseptic spray and a few other items.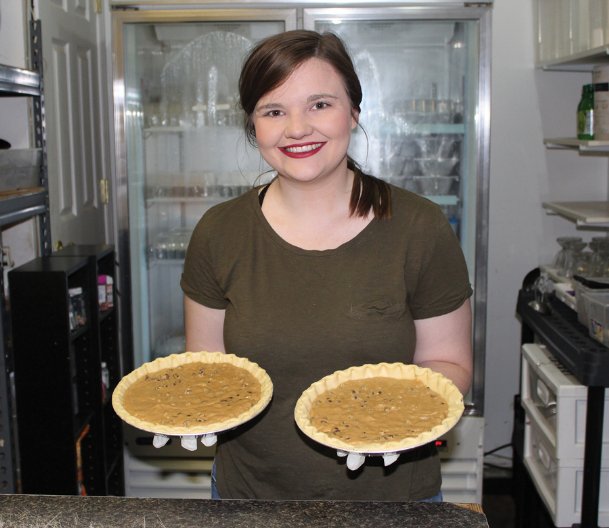 "We were making casseroles on a limited basis, but when dine-in ceased, we wanted to make as many as we could with what we already had on hand," Hoover said. "We had almost an overwhelming response, which was very nice of our customers. So, we expanded on our casseroles and soups."
Specific dishes on offer include frozen poppyseed chicken, chicken spaghetti, lasagna, meatloaf, cream-style corn, mac 'n cheese, sweet potato casserole, squash casserole and more. Also available are taco soup, vegetable soup, red beans and rice, corn salad and chicken salad, among others.
She even took some time out to demonstrate how to make a chocolate chip pie — recipe at the link below. "I love to serve people. I love to take care of people," she went on to say. "I always wanted people to feel like they were taken care of, even if it's just to make sure their drink was always full and their food was nice and hot."

Please click here for the original article (and the recipe!): https://cdispatch.com/lifestyles/article.asp?aid=80801