COLUMBUS & STARKVILLE, MS – Courtesy of the Dispatch

With local cities and counties both imposing curfews, closing non-essential businesses, and asking people to stay home whenever possible, many residents are planning ahead for whatever may come. This has resulted in runs on certain items in stores, forcing the shops to take precautions to protect its customers and workers, even as their shelves get raided.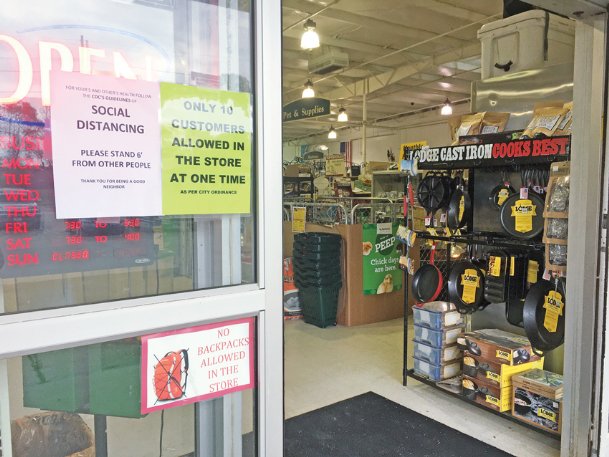 General Manager Jeff Hays of Lowndes Farm Supply reports that his business has increased due to the concerns over potential shortages: "I think they don't know what might happen to the supply chain." Many folks are buying more feed, seeds, and more, within the restrictions stores have had to implement in order to make sure everyone can get what they need.

Owner Gary Dedeaux of Gary's Pawn Shop on Hwy 45 in Columbus says that handguns and 9mm ammo have become hard to keep in stock despite a 2-box/person limit; the manufacturers themselves no longer have any to send them. As with many other businesses, they have implemented a locked-door policy in the name of safety, along with a tight restriction on what types of transactions may be processed and how many customers are allowed in-store at any given time. They also specified that ammo must be pre-ordered.

"What we've noticed the most is the way people shop," owner Ken Campbell of The Spirit Shoppe on Bluecutt said. "It's 'give me a case of that,' instead of a bottle. I guess they plan on self-quarantining until this is over. I had one gentleman buy six half-gallons of gin and 21 liters of tonic, and he says, 'I'll see y'all in a couple or three months.' That's kind of the mentality that's going on." He also noted that, while bars are now closed to inside business, many of them still allow drive-thru or curbside item pickup.
Scott Gault, owner of Starkville's Scotty's Wine and Spirits on Hwy 12, reports higher sales over last year, despite the reduced hours.