GOLDEN TRIANGLE REGION, MS – Courtesy of the Dispatch
Misty McCraw and Kaitlin Mullins are the masterminds behind Golden Triangle Business Women, a group which seeks to help fellow women entrepreneurs to start and run their own businesses in the GTR area. having started last year, the group now includes roughly twenty total members, and they're always looking for more, as each business owner has their own ideas, their own ways of doing things, and their own experiences that can help with others to develop their strategies and thrive in this market.
"We have people at meetings from all different industries, from all three counties, people from in their 20s to in their 50s," said McCraw. "It's really an all-inclusive group no matter what stage (of business) you are, from people who just have a business idea and aren't really sure how they want to start that business, to people who have been in business for several years. They may be established but may want to try some new things."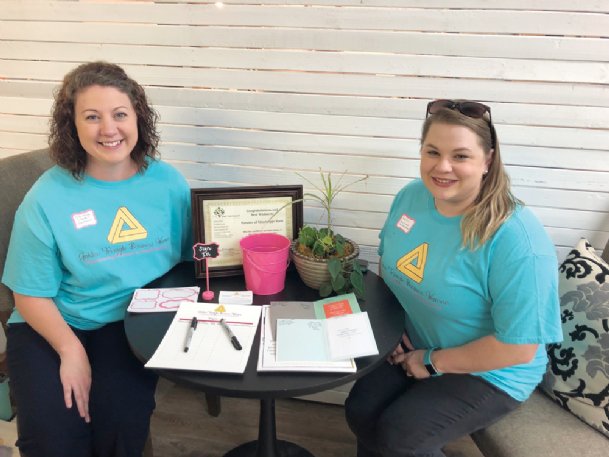 Mullins said, "I think what I like most is just meeting with other women and knowing that other people are in my situation. And the resources that have been brought in have been really helpful to all of us."
The group holds monthly in-person meetings, and has now added weekly online meetups and support courses to help their members to learn more. Memberships are $10 per month or $100 for a year. This modest fee helps to offset the costs involved in gathering materials, t-shirts, events, guest speakers, and the like: "Every dollar goes back into the group in one aspect or another," said McCraw.
Helen Reeves, director of radiology at NMMC in West Point, had this to say: "(The group) has been very inspiring. We've had a lot of speakers that have exposed us to ways to help grow your business that you wouldn't have come up with on your own," Reeves continued. "We've also had speakers that told us of their hardships and what they learned … to help you meet your expectations quicker, avoid some of those trials and errors they've gone through so you don't have to repeat them."
The next Golden Triangle Business Women meeting is Feb. 17. For more information, go to goldentrianglebusinesswomen.org, email goldentrianglebusinesswomen@gmail.com, or visit the group's Facebook page.
Please click here for the full article: