COLUMBUS, MS – Courtesy of the Dispatch

Thirty-three years ago, Clara Hicks went down to a relatively new downtown restaurant called "Harveys" in order to answer a Help Wanted ad: "I just went to the unemployment office and they told me, and I went down to talk to John Bean," she recounted. She's still there to this day.
"She's kind of like our MVP," said Harveys Columbus Executive Chef Jonathan Boyd. "Everything kind of goes through her. I could go on and on about how many items she preps. Her hands touch more product in this building than anyone else."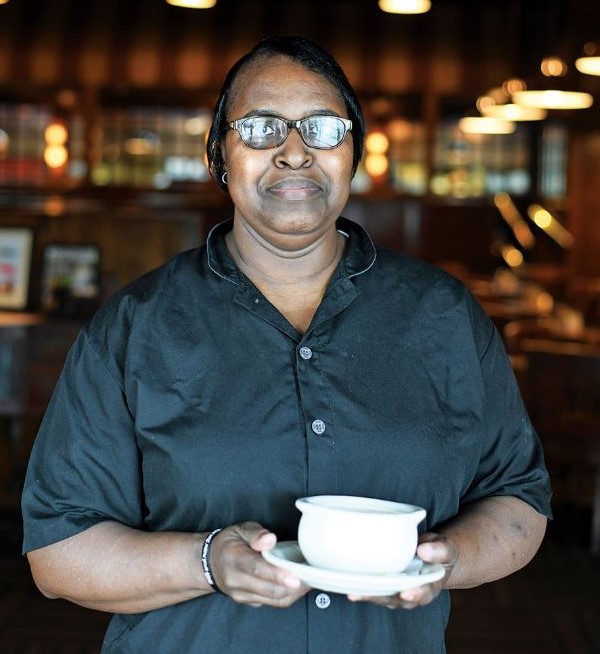 One of 11 children, Columbus native Hicks first learned to cook from her mom, whom she described as "a great cook." Her sisters did the same, and have ended up cooking in local eateries, themselves.
Hicks delights in passing on the knowledge that she and others have accumulated over the years: "I play a major role in leading when all the new people come in; I have to show them the ropes," she said. "They ask me a lot of questions."
Ashley Wilson, HR Director for the Eat With Us Group, was once one of her protegees: "I started out as a server (at Harveys) in 2011," Wilson explained. She worked with Hicks. "Miss Clara is one of the sweetest people you will ever meet. You can ask her a question 15 times and she's gong (sic) to give the same sweet answer."
Harveys General Manager Pat Donahue remarked that "She's been a phenomenal part of our success. She's the kind of person you just love to have on your staff because she cares so much about it."

Please click here for the full article.