GOLDEN TRIANGLE REGION, MS – Courtesy of the Dispatch
Brooke Washington, 11, set up a lemonade stand and did well for herself as part of last year's Lemonade Day: "She did really good and she did her own thing last summer by herself," Brooke's mother, Yolanda Washington said. "She did a good job and made lots of money. This year she wants to do something different. She's making regular lemonade and pink lemonade."  
The success of last year's event in Starkville has caused it to spread to Columbus and West Point this year, allowing many more young entrepreneurs to take part; over 200 children have signed up so far, and organizer Jeffery Rupp says that he's hoping to have over 300 by the time registration closes this Saturday.
"Planning and running a lemonade stand teaches kids important business and financial literacy skills," said Doug Robertson, Columbus president for Cadence Bank, in an emailed statement. "Thinking responsibly about spending and saving at an early age sets the stage for success. By applying skills like budgeting, calculating net profit and repaying debt, participants can put real-world math skills into action. We are excited to serve as a Lemonade Day sponsor and to empower entrepreneurship among tomorrow's business leaders." Cadence Bank offers interest-free loans of $50 to participants, all of which were promptly paid back last year.
"It's a wonderful opportunity for young kids with an entrepreneurial spirit to learn the basics of business," Barbara Bigelow of Columbus Main Street said. "They learn about business plans, how to handle money, they understand the importance of paying bills and they learn to give back to the community. … They are very excited about it. I would encourage everyone to visit as many kids as they can, sample some lemonade and let them know how good it is. After all, they are our future leaders."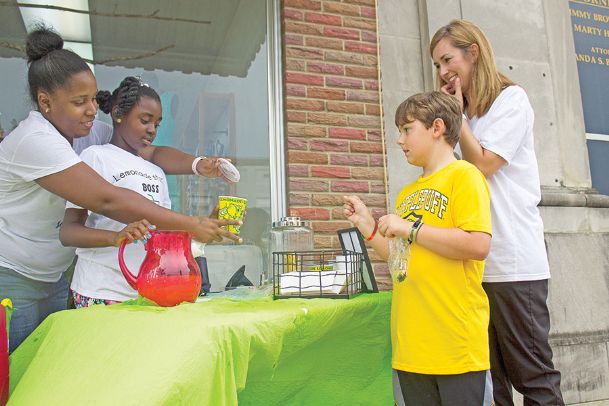 Last year, Ka'Nia Lucious, 9, set up shop on Main Street near Starkville Cafe and brought home around $100 in profit. Armed with the knowledge and experience she earned then, she hopes to make more this year and donate some to her church.

"We ask that kids spend some because they earned it, save some because that's what you should do and share some because you should also always give back to the community," Rupp said.  
To sign up for Lemonade Day, go to www.lemonadeday.org/golden-triangle. 
Rupp said lemonade stands hours and locations may vary. Go to https://lemonadeday.org/golden-triangle/stands-map to see where the stands are.