COLUMBUS, MS – Courtesy of the Dispatch
Years in the making, the "Hybrid Operating Room" at Baptist Memorial Hospital is designed to allow surgeons to perform many procedures with little to no invasion of the patient's body, making things easier for them and safer for their patients. It involves an X-Ray machine capable of sending real-time data to a bank of computers nearby, so that the doctors can often cut far less into their patients in order to heal them.
"For surgeries, surgeons can use that live x-ray feed to make several small incisions wherever it is they need to instead of needing to do an open procedure where the patient is cut fully or partially open," said Derrick Forrester, director of perioperative services "… It helps us see much better and clearer what's going on inside a patient without having to be so invasive.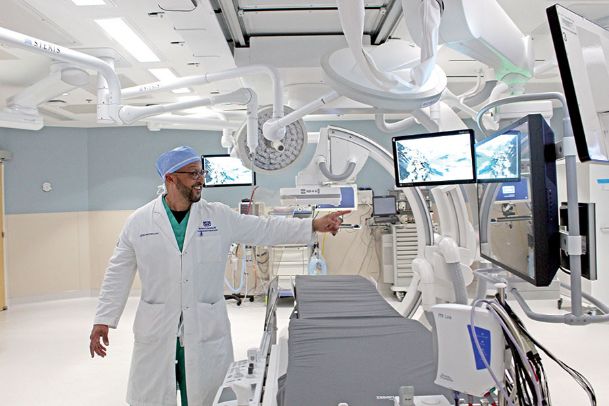 "That x-ray (machine) is what makes this what we call a 'hybrid' operating room," he added. "But if we have a situation where a procedure goes from minimally invasive to, say, open-heart surgery, we have all the equipment in here too, which is also why we call it a 'hybrid' OR."
"They could perform what we call 'standard procedures' like (coronary) bypass surgery with just some incisions," Forrester went on to say. "They could also replace the valve in your heart without having to cut you open."
"We're able to do smaller incisions now, which means quicker recovery, quicker outpatient care … and a quicker return to daily life. That's the goal here."