COLUMBUS/LOWNDES – Courtesy of The Dispatch

As Lowndes County's somewhat controversial 30-year-old restaurant sales tax expired back in June, a replacement tax has been proposed which seems to have near-universal support in the Legislature. Should it be approved, this previously-expired tax will bring back the 2% restaurant tax for the area. Note that this would only affect Columbus eateries whose total food & beverage sales exceed $100 thousand per year.
$400K of the expected revenue has been earmarked for the City, another $300K has been reserved for the County for use in "tourism, special events, recreation and entertainment," and a further $250K for the GTR LINK's economic development services. The remainder will go to the CVB.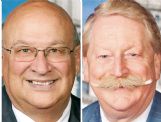 "When it gets down here, it may very well have a direct referendum added (which would require a citizen vote before the tax could be enacted)," said Rep. Gary Chism (R-Lowndes County), who serves on the House Local and Private Committee that handles such sales tax legislation. "This is the way I drafted the bill because that is what the city and county wanted (in their resolutions), and I support it."
Mayor Robert Smith reports that the City intends to use its share of the projected revenues to help pay for an estimated $1.6 million in ball field improvements at Propst Park, as well as building the second phase of the Sen. Terry Brown Amphitheater at The Island.
Supervisors' President Harry Sanders stated that the County is considering using its share to make a "regional" sports complex.
Kudos to the Dispatch for staying on top of this!