Cadence Bank Looks to the Future After Successful IPO
Courtesy of the Starkville Daily News
Houston-based Cadence Bank (CADE) recently returned to the NYSE, having completed their IPO two weeks ago. Now, they are gearing up to make themselves even stronger for the future.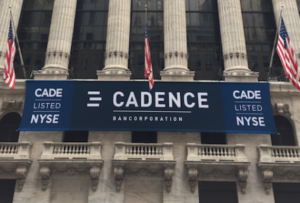 Cadence Bank CEO and Chairman – and MSU alumnus – Paul B. Murphy Jr. is spearheading their efforts: "The most important thing we want our clients to be aware of is that we were a strong bank before and we are even stronger now," Murphy said. "Having a publicly-traded stock gives us a currency to hopefully find some good banks to partner with," he went on to say, "And have them merge into us and be part of our company."
Cadence Bank's Mississippi President Jerry Toney stated that Cadence Bank is one of the largest employers in the area, and that they plan to remain so. With this IPO, Toney says the company can further advance and build on its customer relationships on the local level: "We give a lot back to the community as well and we're still and have been for many many years the largest private supporter of economic development in the entire Golden Triangle," Toney said.
Please click here for the full article.