New Dealership/Development In Starkville On Track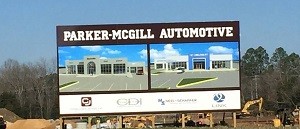 The new Parker-McGill mega-dealership project on Highway 12 is moving along right on schedule; the investors announced this week that they are ready to open a temporary lot to begin selling vehicles. The group is investing $21 million into the 26-acre parcel, with plans for multiple car dealerships, residential units, and office space in the very near future. The ambitious project was fueled by a $3 million TIF bond, which was used to fund significant infrastructure on the site. All told, the site could eventually bring nearly a half million dollars per year into the local tax base, on top of the impact on the workforce.
The temporary lot should be open for business within the next thirty days or so, and the full dealership complex is planned to be up and running by the end of August.
The Starkville Daily News has more:   http://www.starkvilledailynews.com/content/parker-mcgill-dealership-open-temporary-lot